Today, Dianne and I repeated one of our favorite loop hikes in Colorado National Monument.  Accompanying us were a fellow Colorado Mountain Club member, whom I met on the Sunset Rocks hike, and his girlfriend.  She's a nurse and my wife was a nurse.  As we proceeded up the trail, the women got to talk for miles about injections, bedpans and other nursing topics.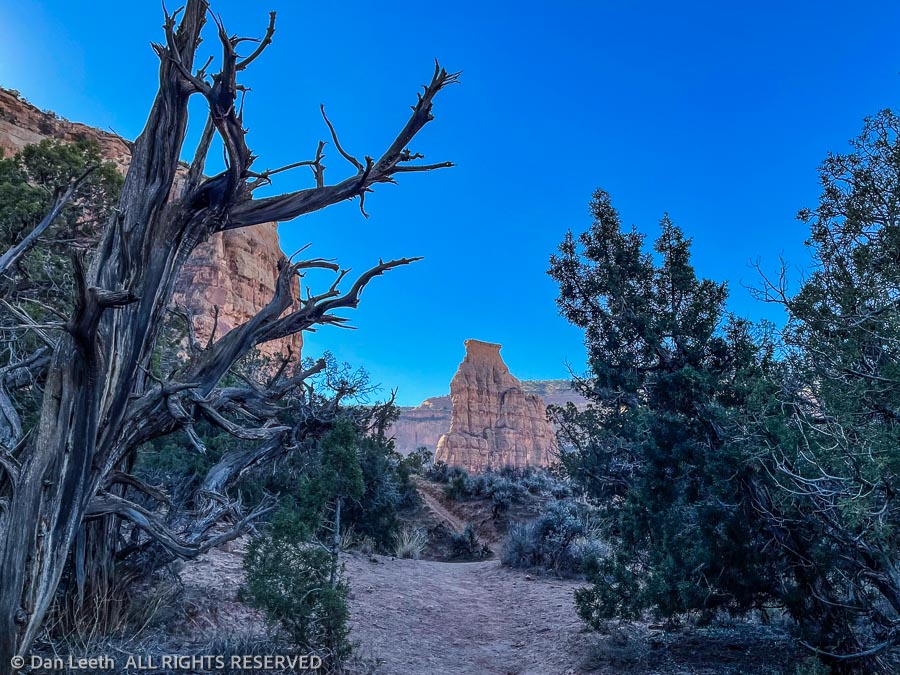 The hike begins at a trailhead near the base of the Colorado National Monument cliffs. From there, one trail goes up Monument Canyon, passing the towering rock formation known as Independence Monument before continuing onward to Rim Rock Drive.
Another trail goes up Wedding Canyon to Independence Monument where it connects with the Monument Canyon Trail. The loop up one canyon to Independence Monument and back down the other is about five miles long with around 1,000 vertical feet to ascend. It would be a nice, relaxing day of hiking.
Last time we hiked the loop, we started up Monument and returned via Wedding Canyon. This time, we did Wedding first. The first part of the hike requires traversing the flats close to the park boundary.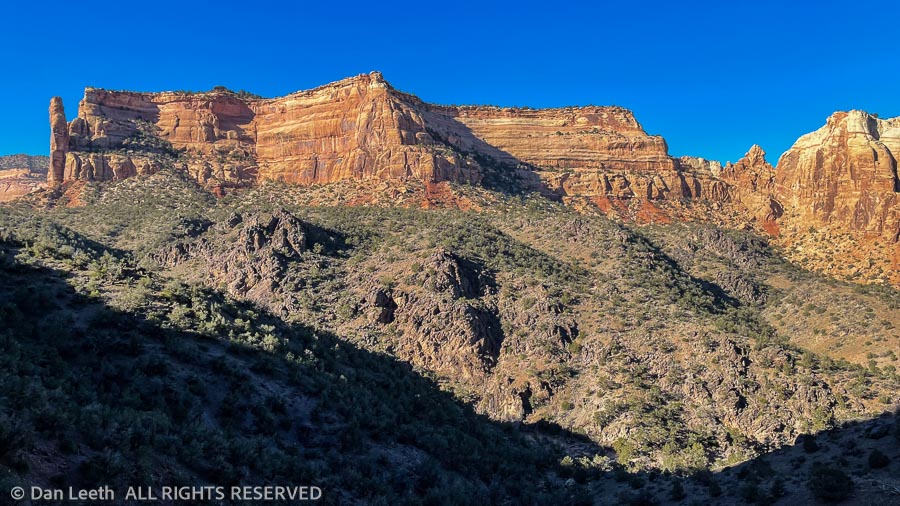 The morning was cool and the skies clear.  Unblemished sunlight spotlighted the ruddy cliff faces across the canyon. I love this country.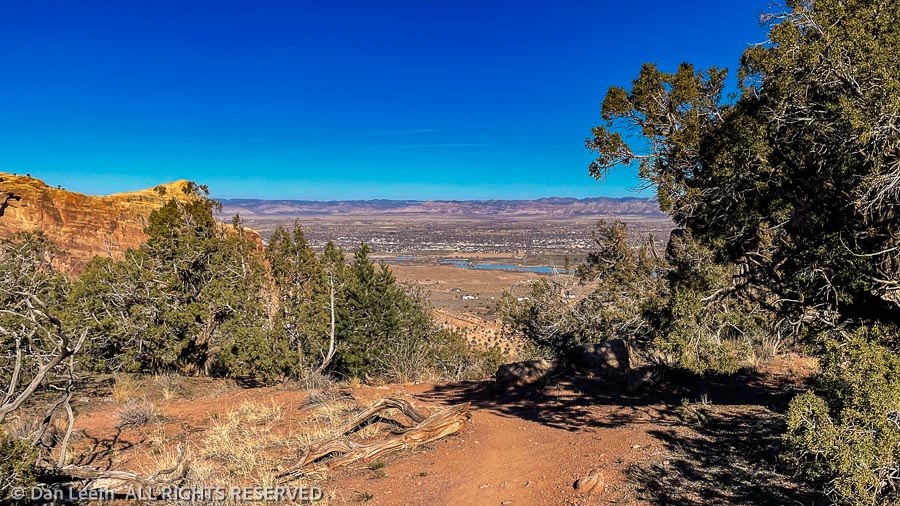 The Park Service considers Wedding Canyon to be a "route," not an official trail. There were places that required ascending and descending steep, baren ground. Needless to say, we all did quite well.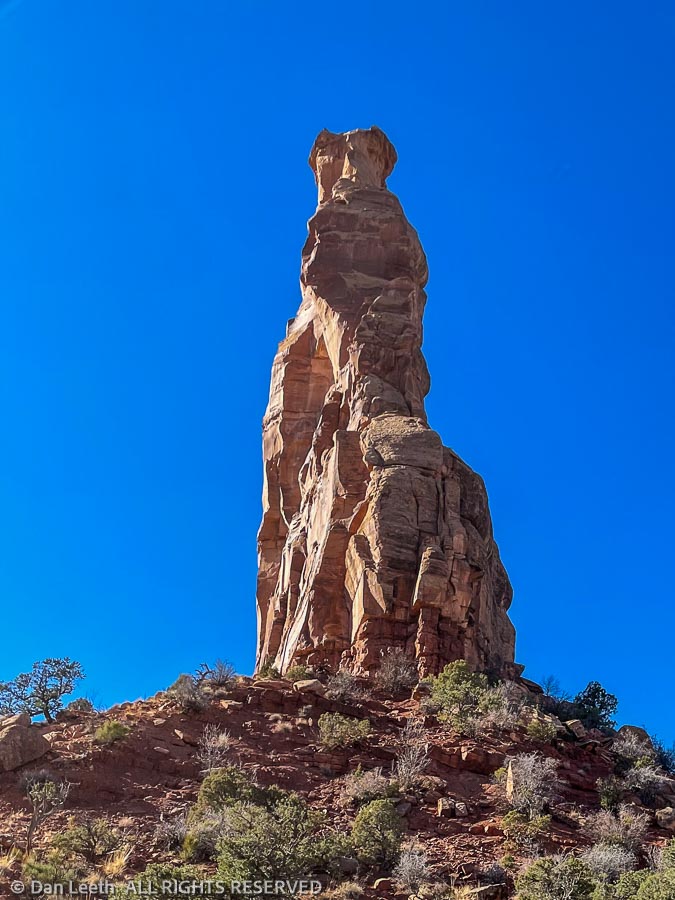 After a brief snack stop near Independence Monument, we started back down the Monument Canyon Trail. An official National Park Service trail, it is much wider and has rock slabs serving as stairsteps in the steeper places. Ahead, we looked down the canyon at the city with the Book Cliffs and Grand Mesa towering behind.
Bighorn sheep are common in this canyon, and at one point I spotted a flock of female bighorns dining on the flats below. For the benefit of our nurses, I pointed them out by announcing, "I see ewes."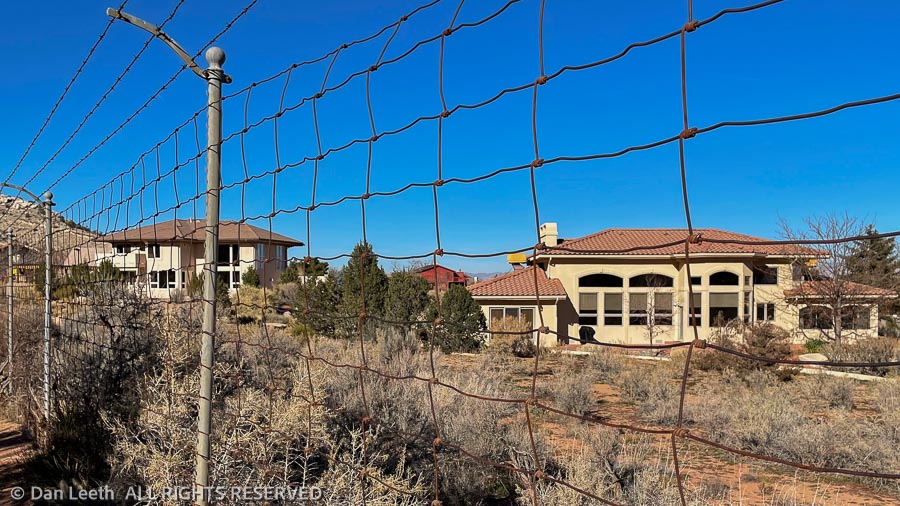 Down at the bottom, the trail parallels the park boundary for a half-mile or so, with a wire fence blocking us from the backyards of a few high-end homes. While the views from their patios would be stunning, I'd hate to have to put up with riffraff like us constantly hiking by.
Back at the car, we said goodbye to our hiking companions and drove back home to our trailer where the beer awaited.