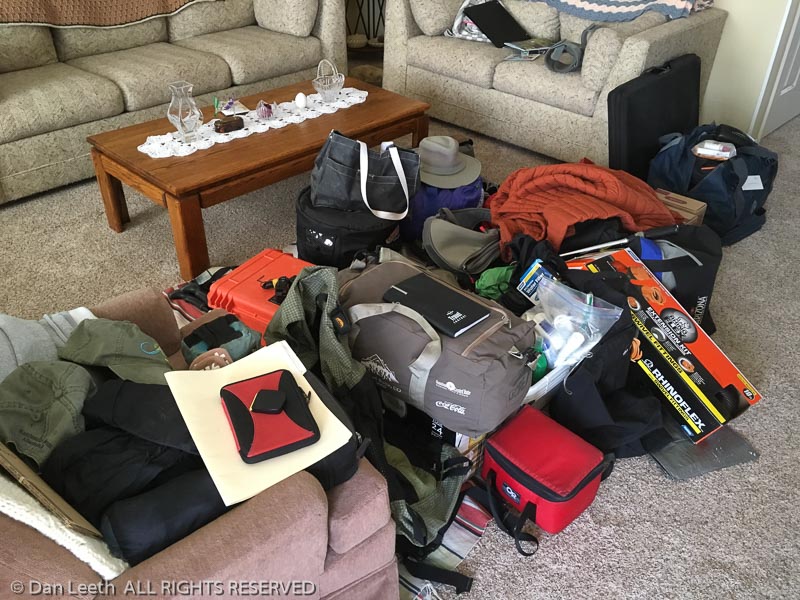 I hate packing. You'd think that someone who's made his living as a travel journalist for the past 22+ years would have totally mastered packing. But I haven't.
Sure, I've got packing lists, several of them. I've got one for general travel and another for trailer travel. I've got a list for day hiking and another for backpacking. I've got a camera packing list, a computer/briefcase packing list and a ski trip packing list. As long as I pack from the list, I seldom forget anything.
What to take is not the issue. What not to take is the issue.
Packing requires going through the list(s) and deciding what won't be needed. Some things are easy. For example, on a recent, month-long trip to Devil's Tower and the Dakotas I realized I probably wouldn't need my snorkel, mask and fins.
But do I bring a down parka or can I get by with just a down sweater? And how many left-over motel shampoo bottles will I need for a month of campground showers?
Of course, not forgetting anything brings up another problem. I bring too much.
Take footwear for example. My combined packing lists for a typical trailer trip include no fewer than six forms of footwear including slippers, Tevas, flip-flops, camp shoes, tennie-runners and hiking boots.
I figure I might want the slippers for inside the trailer, the flip-flops for the shower, the hiking boots for hiking and the camp shoes for around camp. The Tevas allow me to work on a Teva-straps foot tan, and although I haven't run since my last knee surgery two years ago, I'll bring the tennie-runners just in case.
Packing for the Dakotas took three days, but somehow it all got packed. The trailer got loaded, as did the Xterra tow vehicle. The packing is over and now I get to sit back and enjoy the adventure.
I just hope I didn't forget anything.