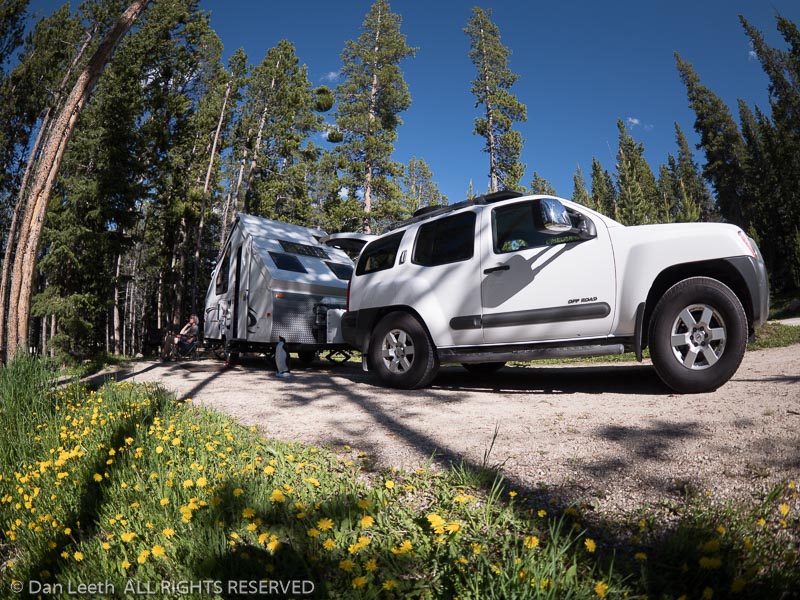 A few weeks ago, a reader asked if we would recommend buying an A-frame trailer. In a long reply, I told him what I considered to be the pros and cons of this type of recreational vehicle.
PROS
The trailer tows flat, so it has less wind resistance and with many models, drivers can see over the top of the trailer through the rear-view mirror when towing.
They're relatively light, so owners don't need a mega-tow vehicle. We tow ours with a Nissan Xterra, which has a 5,000-pound towing capacity. The trailer is rated at 3,500 pounds maximum, although when fully loaded, ours only runs around 2,600 pounds. Aliner brand has lighter-weight A-frame trailers that can be pulled by cars with less towing capacity.
They're small enough to park in tight campsites, assuming there's enough overhead space.
Unlike a tent trailer, this one goes up/down in about 90 seconds, a job easily done by one person. And doesn't need to have the canvas dried out after a rainstorm.
They're cheaper. Ours has a small fridge, three-burner stove, sink, 20-gallon water tank, six-gallon water heater, double bed, dinette, furnace, air conditioner and yes, even a microwave. Even with all that, it cost far less than a conventional trailer.
CONS
They're small. The box is only 12 feet long and with the bed and dinette permanently set up, there's not a lot of move-around room. The only sitting space is at the dinette.
Inside accessible storage space is quite limited.
The refrigerator and microwave are below the counter, which can be a problem for folks with bad backs and knees.
Unless one buys a high-wall model, the countertops are lower than normal, which can be an issue for tall folks.
The bed on most A-frame trailers goes crossways so the person sleeping on the wall side has to crawl out over his/her sleeping companion. Companies are beginning to offer models with side-by-side twin beds to alleviate this issue.
While the dinette makes into a second bed, it's not a great trailer to camp with the kids/grandkids (unless you put them out in a tent).
Because the trailer folds and unfolds, there needs to be some space between the wall and roof panels. The lack of a tight seal means some heated air can escape and small flying insects can sometimes find their way in.
Most A-frame trailers come with bubble windows over the dinette and bed areas, which over time can lose their seal and start to leak water. Proper repair requires removing the bubble and reattaching it to the trailer. Most of us go the easy route and simply affix sealing tape around the bubble.
There's no gray-water tank, so sink water needs to be collected in a bucket or portable tank and manually dumped if there's no direct sewer hookup.
There's no flush toilet and no black-water holding tank. Most A-frames come with cassette toilets, which require campers to empty the output in the campground restroom. And very little privacy around the toilet area.
Very few models offer an inside shower option, although most have outside showers. We use ours with a privacy tent pitched next to the trailer, which requires that we collect the water residue and dispose of it with other gray water.
While some brands are better than others, the build quality is generally poor. Screws come loose, and things sometimes rearrange themselves over the course of a long trip.