One of the first things we did when we first moved to Colorado back in 1983 was to join the Colorado Mountain Club (CMC). It proved to be an excellent way to discover places to hike/climb and make new friends. During my travel writing years, we found we weren't using the club services and dropped out.
Now, having moved to a new area and looking to discover places to hike/climb and make new friends, we rejoined and signed up for the first available hike. It was a hike to Rattlesnake Arches, the largest concentration of natural sandstone arches this side of Utah. We've been there at least twice in the past and were looking forward to another visit.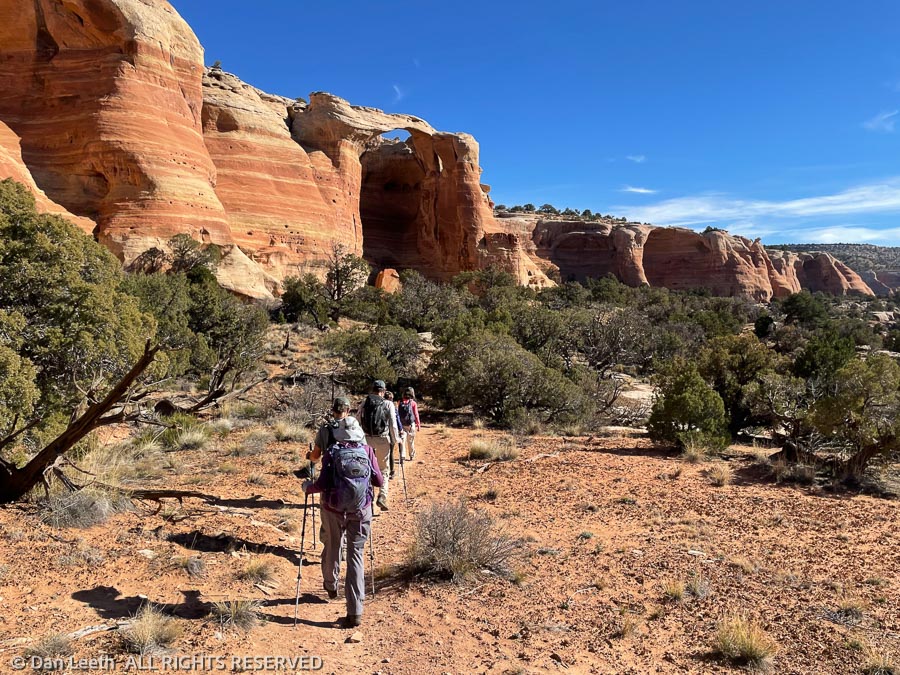 There are two ways to get to the arches, which are located in the McInnis Canyons National Conservation Area. The long route is to go from the bottom up, which involves driving a few miles on a graded road to the Pollock Bench Trailhead and hiking 7¼+ miles up to the arches and 7¼+ miles back.
The short option is to do the 5¼-mile walk down from the top. Unfortunately, that involves driving about ten or so miles of high-clearance dirt roads, the last few miles of which are 4×4-worthy. That's the route we'd be going on our CMC hike.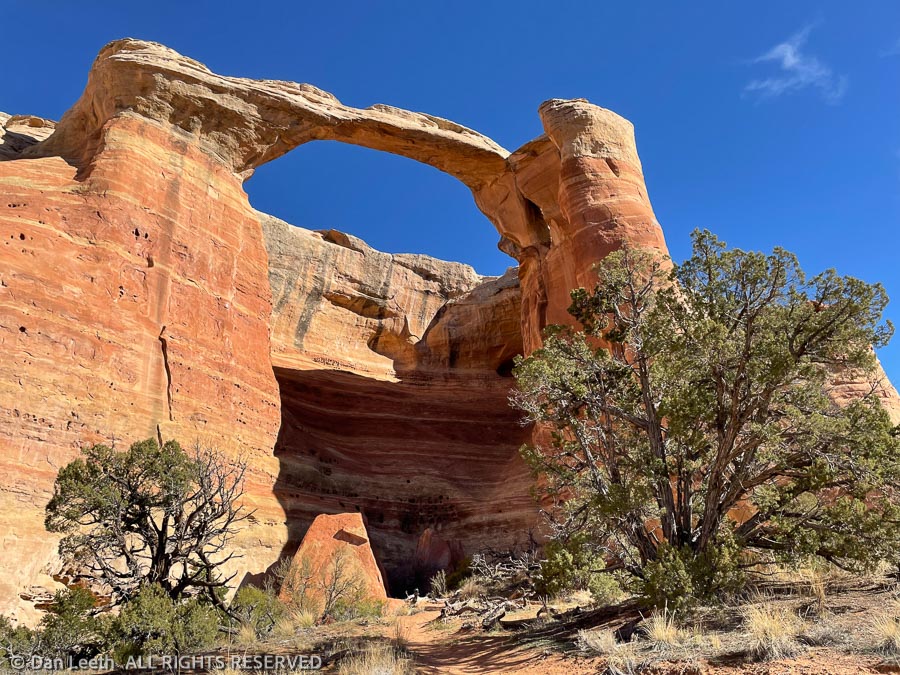 The nine hikers on the trip pile into three 4×4 vehicles, which include a Toyota FJ Cruiser, a Nissan Frontier 4×4 crew cab pickup and our full-size Nissan Titan Pro-4X crew cab pickup. The FJ Cruiser heads down the dicey parts of the road with no problem. The Frontier truck with its shorter wheelbase and limited overhang seems to have no issues.
I drive last, nursing our long-wheelbase, long-overhang monster down the trail. Nissan may like to market this "Pro-4X rig as off-road worthy, but a Jeep it is not. I sure miss my Xterra, which would have been as good as the FJ Cruiser on this route. We do finally make it to the trailhead with no undercarriage scrapes and most of the body paint still intact.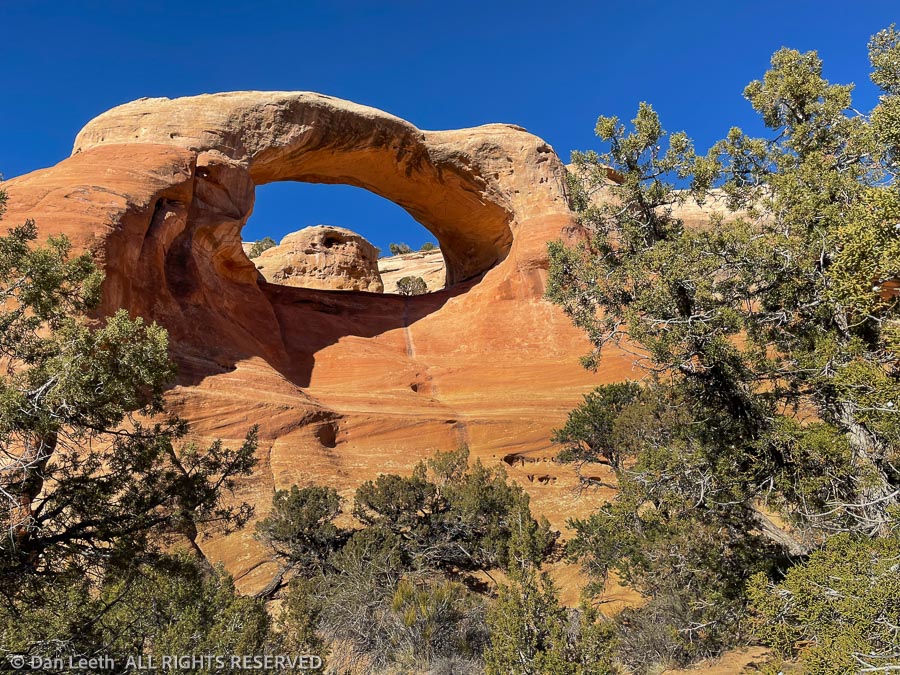 The hike is rather straightforward. It begins with a switchbacking plunge down a few hundred vertical feet, then follows a wide bench a couple of miles to the arches. After lunch at Cedar Tree Arch, trail's end, we hike back. The morning's plunge down is now a grunt up.
Near the top, there's another, relatively flat trail that leads to an overview of Cedar Tree Arch from above. Most of us opt to extend the hike and head that way.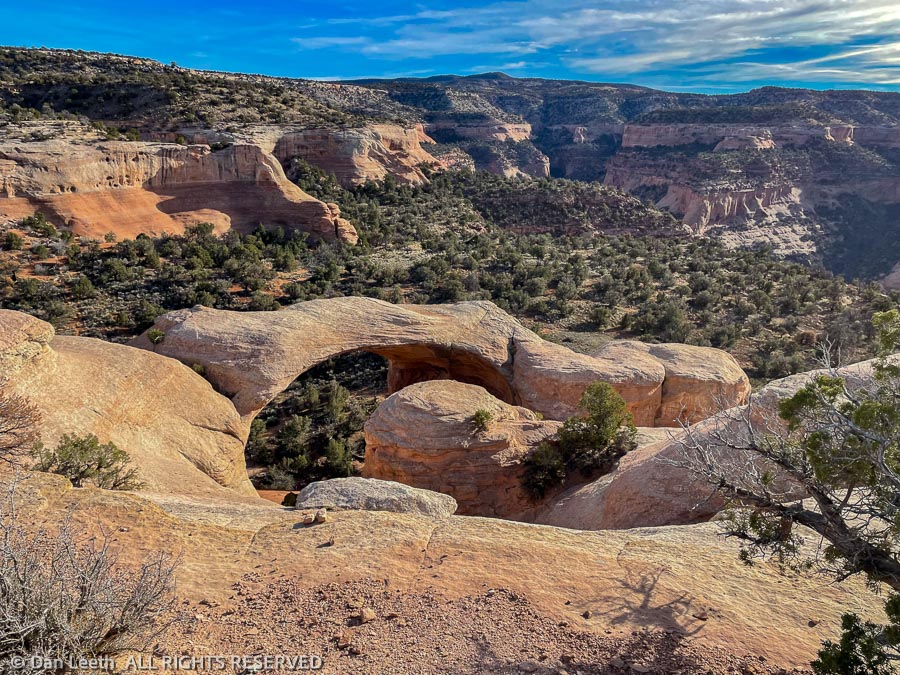 Back at the trailhead, we pile back into our vehicles and begin driving up the 4×4 portion of the 4×4 road. Going up the dicey loose rock is even more "fun" than descending it, but again, we make it to the top with no scrapes or dents.
The route back to civilization takes us right past the Glade Park Store, a classic little market seemingly in the middle of nowhere. To reward ourselves for a successful drive out, we stop in for a bit sustenance. I am careful to keep the open bottle out of sight as we drive back through Colorado National Monument and on to home.