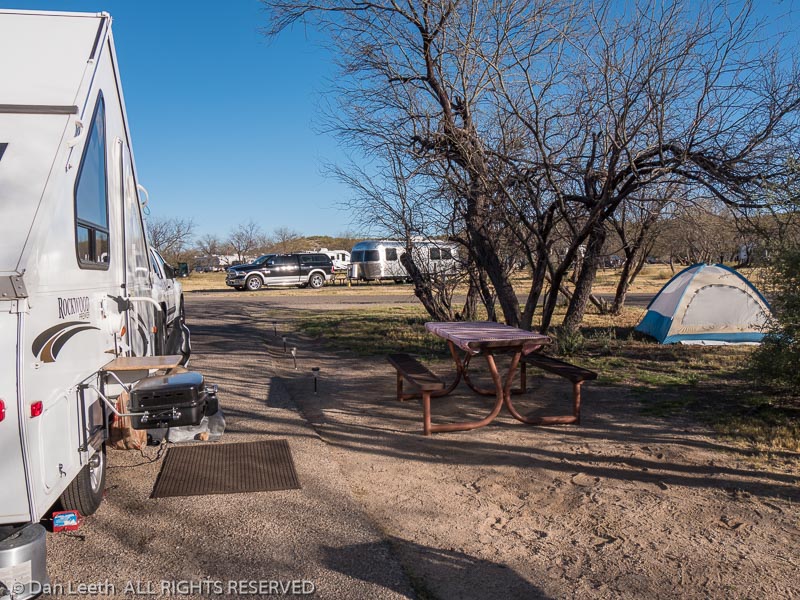 There are certain ethical rules campers in public campgrounds are expected to follow. One of them is to respect the privacy of fellow campers and not pitch your tent right next to your neighbor's picnic table.
We arrived at Catalina State Park near Tucson last week and parked our trailer in our assigned campsite. We chose that particular site because it was bordered on both sides by privacy-providing mesquite trees.
Our first neighbor, a couple in a trailer, left after a few days. New neighbors arrived while we were out hiking. When we returned, we found their tent pitched beside the trees, less than ten feet from our picnic table. Legally they were on their space, but ethically they were in ours.
Revenge is sweet. We're camping here with two other couples, each in our own separate site. Every night, the six of us gather around our propane campfire for wine and stories. The campfire sets right next to the picnic table.
We're not purposely rude and we disperse before quiet hour begins. But alcohol-amplified voices can carry in the quiet desert night. And our tent-camping intruders go to bed early.
We're off to a spring training ballgame in Scottsdale today. We can only hope that when we return, they will have moved their tent to the center of their site. If not, they will no doubt get an alcohol-amplified account of the game.