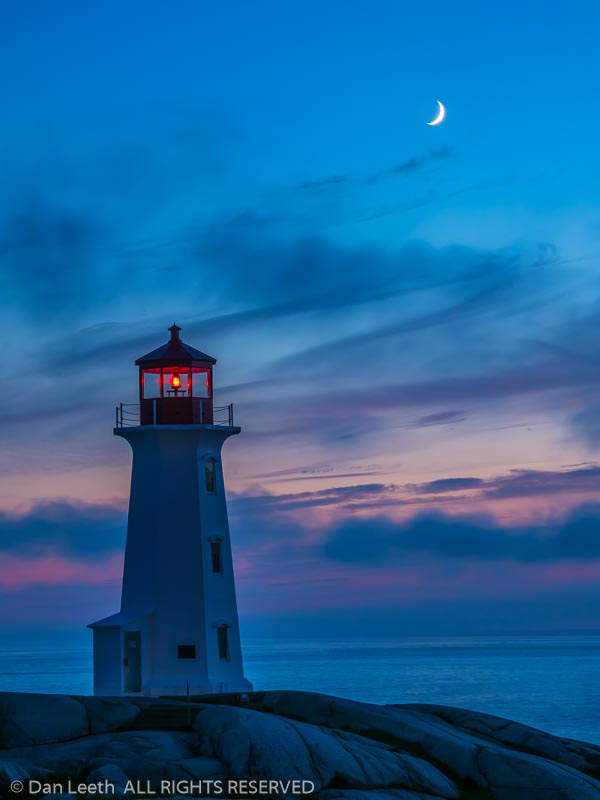 Prince Edward Island has a great racket going.  Getting there is free, whether it's over the 12.9-kilometre-long Confederation Bridge or taking the ferry over from Nova Scotia.  Getting back is another matter.  The bridge toll for our car and trailer was $54.50.  The ferry would have been even more.
For the most part, roads across Nova Scotia have been the best we've found in Canada.  South from the New Brunswick border, we were on a smoothly paved, divided highway that would put most American interstates to shame.  What they didn't tell us is that about halfway down to the first major town, we'd be ambushed by a toll booth.  At $5.25, it was far cheaper than the per-mile tolls on the ring road around Denver.
After a night in an RV park near Truro where we did laundry, we were off for Kejimkujik National Park (locally known as Keji) in the middle of southwestern Nova Scotia.  Needing a potty break along the way, we stopped at a visitor information center located near the remains of an old bridge across the Shubenacadie River.
"You're just in time," the chief visitor informer told us.  "The tidal bore will occur in about 30 minutes."
It seems the Shubenacadie empties into the Bay of Fundy, home of world's highest tides.  When the tide rolls in, the up-flow of seawater overwhelms the downflowing river and a giant wave forms across the river narrows.  We joined a few dozen others at an overlook built atop one of the old bridge abutments and watched the action.  The Banzai Pipeline it's not, but it was an interesting phenomenon to observe.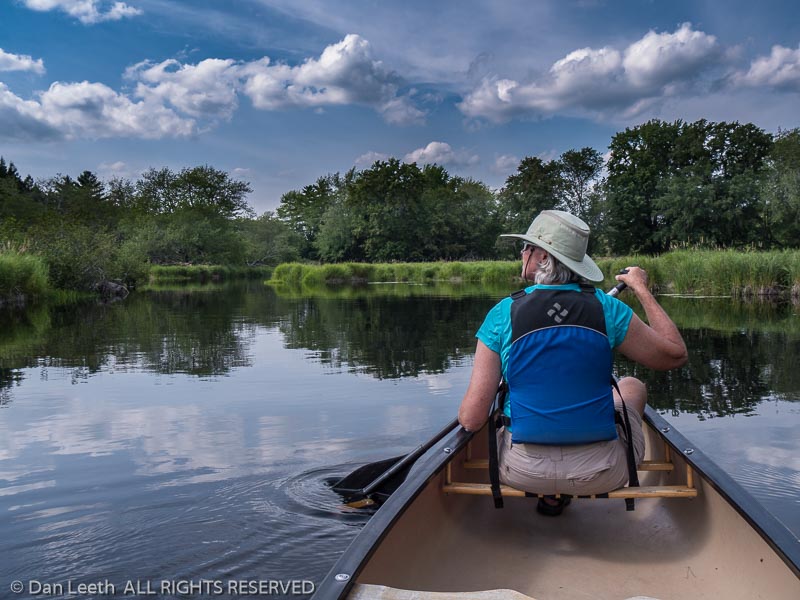 Dianne's been longing to do her Lewis and Clark thing and paddle a canoe, something we'd been weathered out of doing so far. Finally, she got her chance. Under blue skies, we rented a craft and paddled our way up the slow-moving Mersey River. Shoulder and hand surgeries have kept me from doing upper body weight workouts for over six months, and after two hours of paddling, my arms were as sore as a starting pitcher's after nine innings.
From Keji, we went to Halifax where we camped in another commercial RV resort for two nights. On our layover day, we drove to Peggy's Cove, a world-famous site that draws in tour busses faster than a fresh horse pucky draws flies. After a few hours of tourist dodging, we went back to the car and did a drive around Saint Margaret's Bay.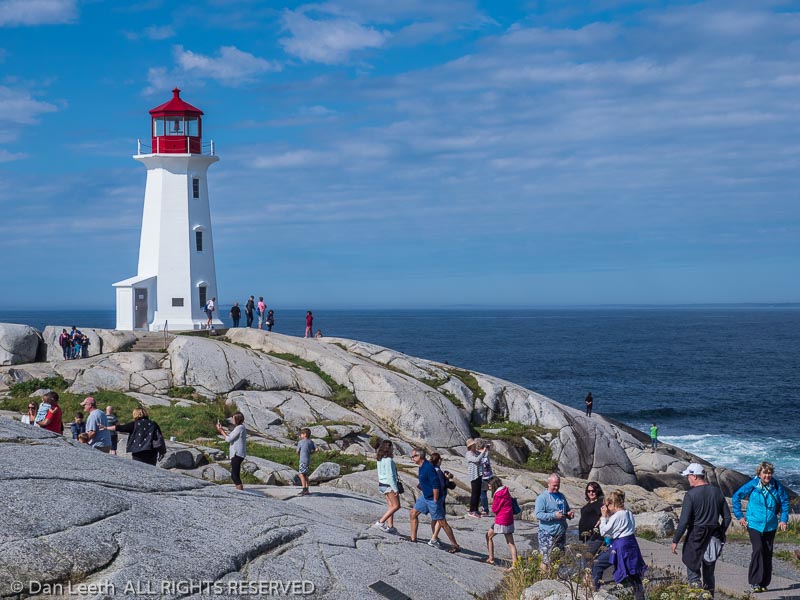 Our first and last stops on the drive were memorials to the victims of the 1998 crash of Swissair Flight 111. The plane took off from New York on its way to Geneva. Somewhere around Halifax, a fire onboard apparently took out the flight controls and the plane went down a few miles beyond St. Maggie's Bay. Memorials to the victims stand at Peggy's Cove on one side of St. Maggie's and Bayswater on the other.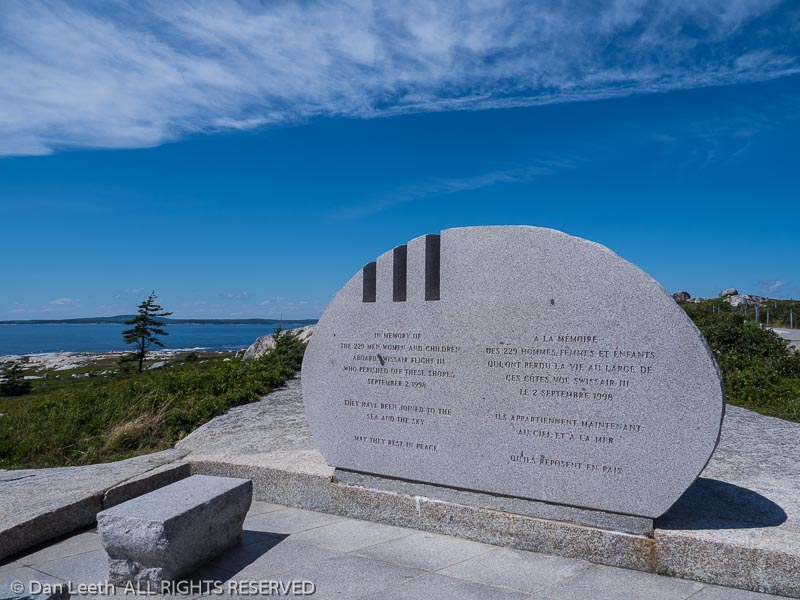 Next stop was a night at Murphy's Camping on the Ocean, a commercial RV park in Murphy Cove owned and run by Brian and Marilyn Murphy. Our site was on a big open lawn next to a post that had a water faucet and a 15-amp electrical hookup. The water failed to meet health standards and came with a boil-before-drinking warning, and the electrical hookup was so weak, we couldn't run our microwave or space heater.
Despite all that, Murphy's will go down as one of our favorite commercial campsites so far. Every night at 8:00 p.m., Brian builds a campfire down near the water. Like breakfast at a B&B, it allowed us campers to meet each other and share information and stories. Along about 8:30, a huge pot of mussels arrives and is boiled on the fire. I'm not a mussel eater, but Dianne was in shellfish heaven.
As for the water and electrical issues, it turns out we still had plenty of good water in our freshwater tank and we managed to survive without heat or microwave popcorn.
From Murphy's, we headed north up the eastern coast of Nova Scotia, visited yet another lighthouse at the end of a dirt road pitted with potholes big enough to swallow a MiniCooper and took yet another ocean cruise – this one a five-minute ferry ride across a small cove.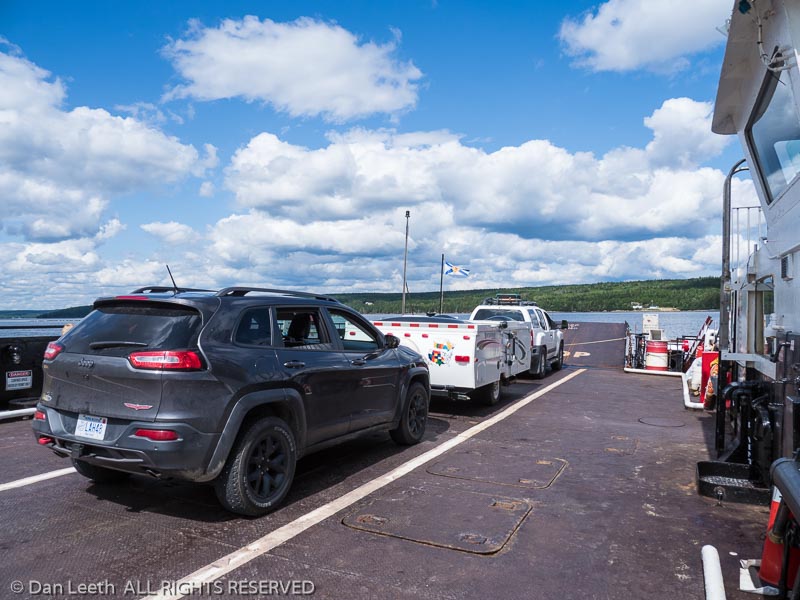 Our drive ended at the Hyclass Ocean Campground near where we'll cross onto Cape Breton Island. The name is a bit boastful, but the water is drinkable, we can run the microwave, space heaters and heat-pump furnace and there's snail-paced free Wi-Fi service available that even sometimes works.
But there's no communal campfire here and no boiled mussels.