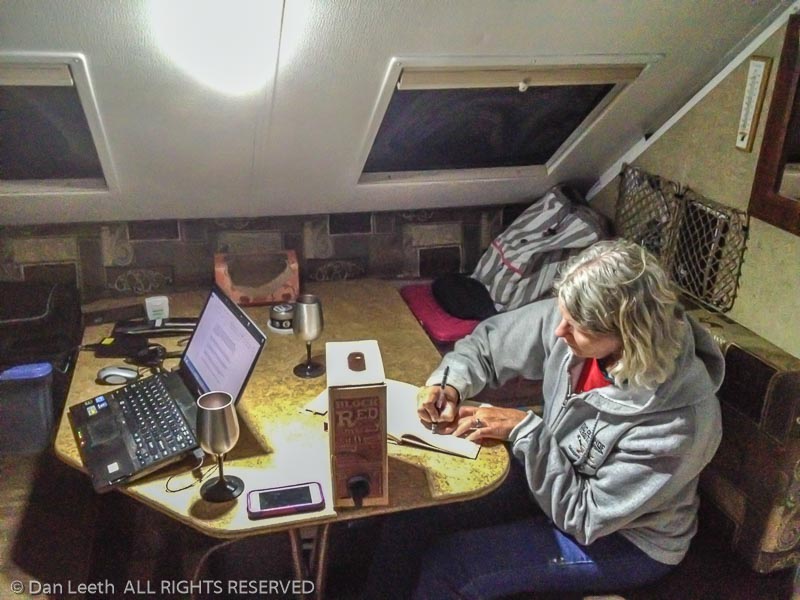 Sometimes things don't work out as planned. The idea was to drive to Natural Bridges National Monument, camp for the night and then hike the 8.6-mile bridge-to-bridge-to-bridge loop tomorrow.
From the Grand Canyon, under ugly gray skies, we headed across the Navajo reservation, up past Monument Valley and into the land of 3.2 beer. Beyond Mexican Hat, we dragged our A-frame trailer up the vertical, gravel switchbacks of the Moki Dugway. Let me tell you that nobody beats the Utah Department of Transportation when it comes to turning a perfectly smooth road to a mass of teeth-chattering washboards.
When we got to Bridges, we learned there were there no formal campsites to be had and the old overflow camping area, our planned bailout, no longer existed.  In addition, the weather for our hiking day would include rain and snow.
SNOW?
We were basking in air conditioned 90+ degree heat in the Superstition Mountain desert a week ago. I'm not hiking in no freaking snowstorm! If I wanted to do that, I could have stayed home.
So bail we did. We're now in Blanding, Utah, sitting in a commercial RV Park. The wind is howling, the rain pelting, but we're snug, dry and toasty warm in our trailer with the heat-pump warming us up.
Okay, a casita at the Four Seasons Scottsdale at Troon North would be better, but this is pretty darn nice.