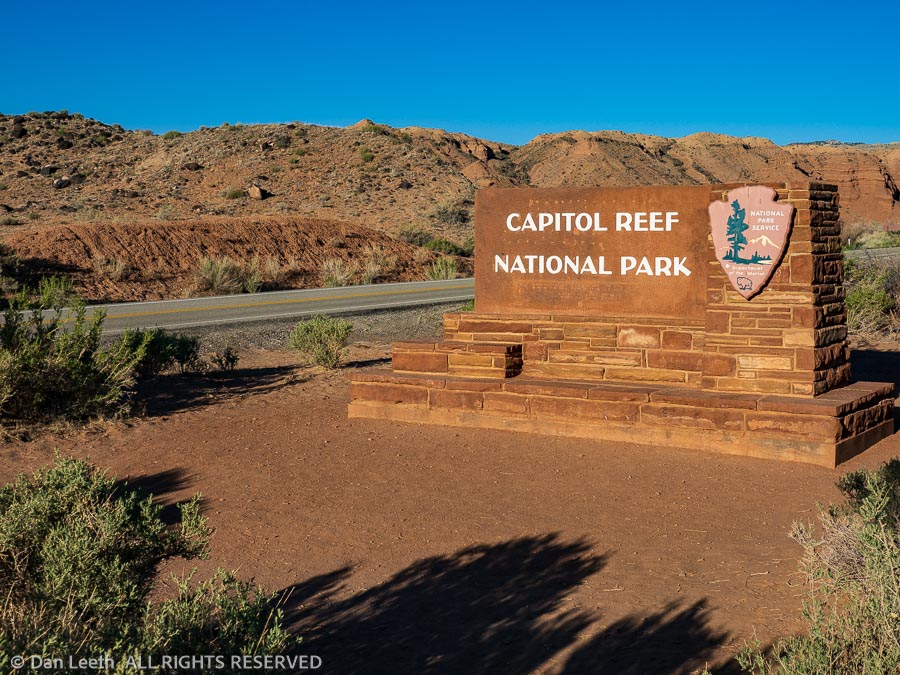 Capitol Reef National Park is a bit of a rarity. It's a popular park that still allows one to camp for 14 consecutive days. That's exactly what we did.
Getting a camping reservation, however, was a bit of a challenge. When sites became available exactly six months ahead of our chosen date, our first-choice site was not available. Instead, we got an end site directly across from the dump station.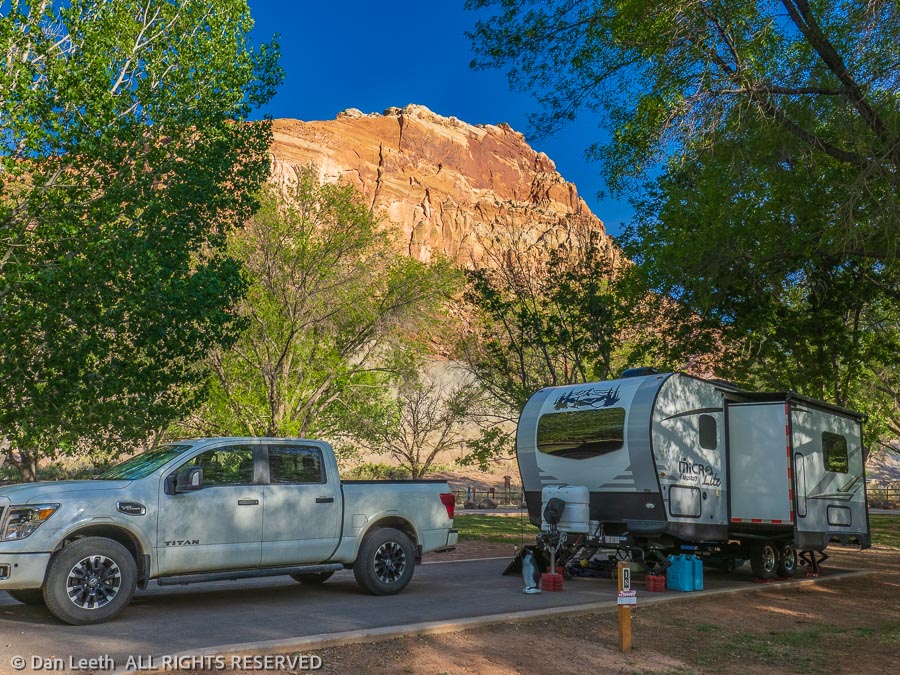 A large open lawn giving us plenty of sun for the solar panels and a direct line of sight to the dump station provided hours of people-watching entertainment. Yes, there are a lot of newbies out there who don't yet know what they're doing.
Our friends who joined us at Robb State Park in Fruita, Colorado, joined us for various lengths of time at Capitol Reef. That meant lots of hiking.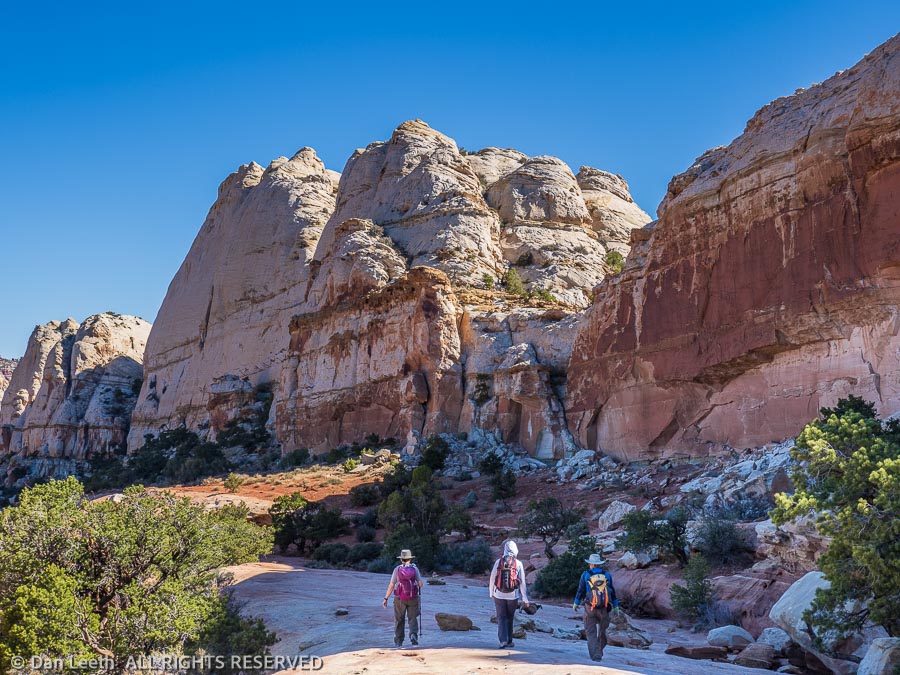 The first day, we did a 10-mile hike to the Navajo Knobs. The trail shares a trailhead with the route to Hickman Natural Bridge, one of the most popular hikes in the park. Much against the wishes of one member of our group, we made a 7:30 a.m. departure. We arrived to discover the trailhead parking lot was already a quarter filled. It would be overflowing in an hour.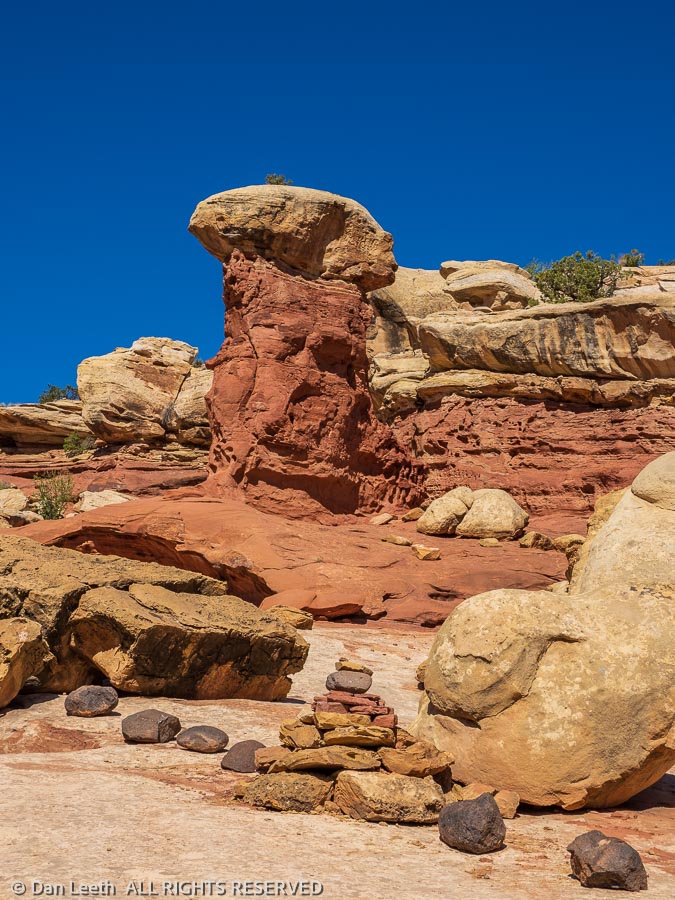 We avoided any parking problem on our second day by hiking the Cohab Trail which starts directly across from the campground. Four of us just did an out-and-back hike to where the trail ends at the highway into the park. The other four broke off onto the Frying Pan Trail and continued to Cassidy Arch and down into Grand Wash. Providing Uber-service, I drove around to their take-out point that afternoon and gave them a ride back to camp. They didn't tip.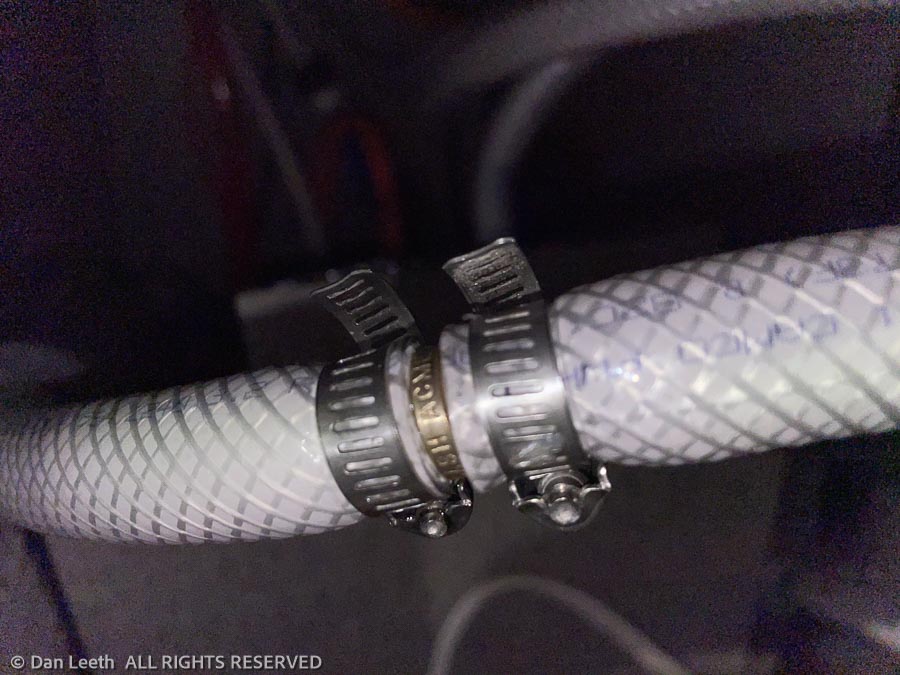 Our third day was spent doing plumbing repairs. A pipe from the water pump began leaking, so Dianne and I drove 28 miles to the nearest hardware store in Loa for parts. Back at the trailer, I loosened my pants to show lots of plumber's butt and repaired the problem. That night we celebrated one member of our group's birthday at the Broken Spur Restaurant in Torrey.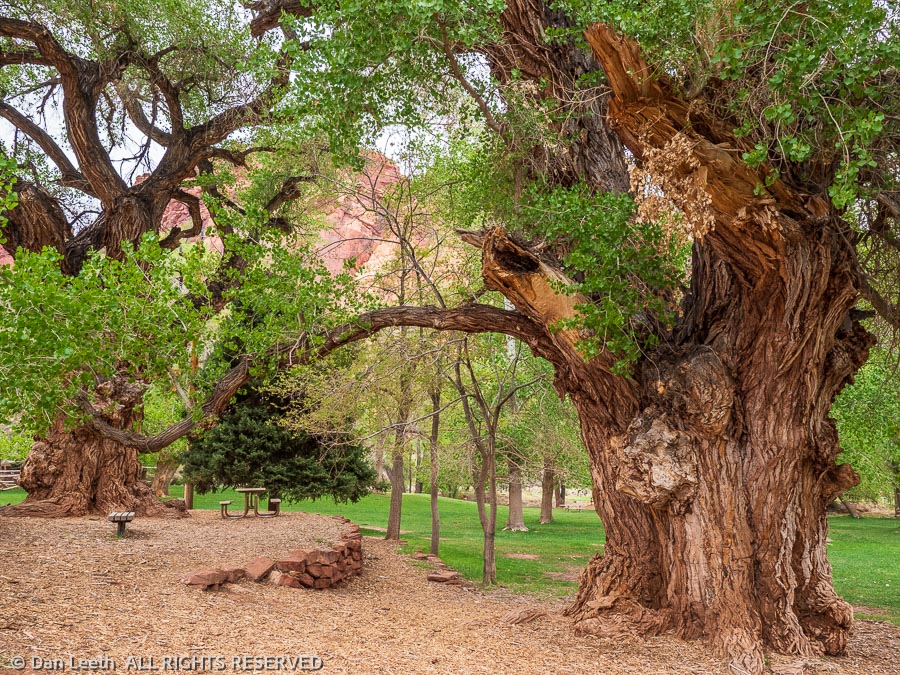 Lousy weather made the next day a rest day with only a three-mile walk to the park's visitor center. An information volunteer there gave us details about one of our proposed hikes, Sulphur Creek. With an unavoidable plunge pool on the route that required swimming across, we struck that hike off the list. Back at camp, we walked over to photograph some giant Fremont cottonwood trunks in the soft, overcast light. No image can capture the magnificence of these historic trees.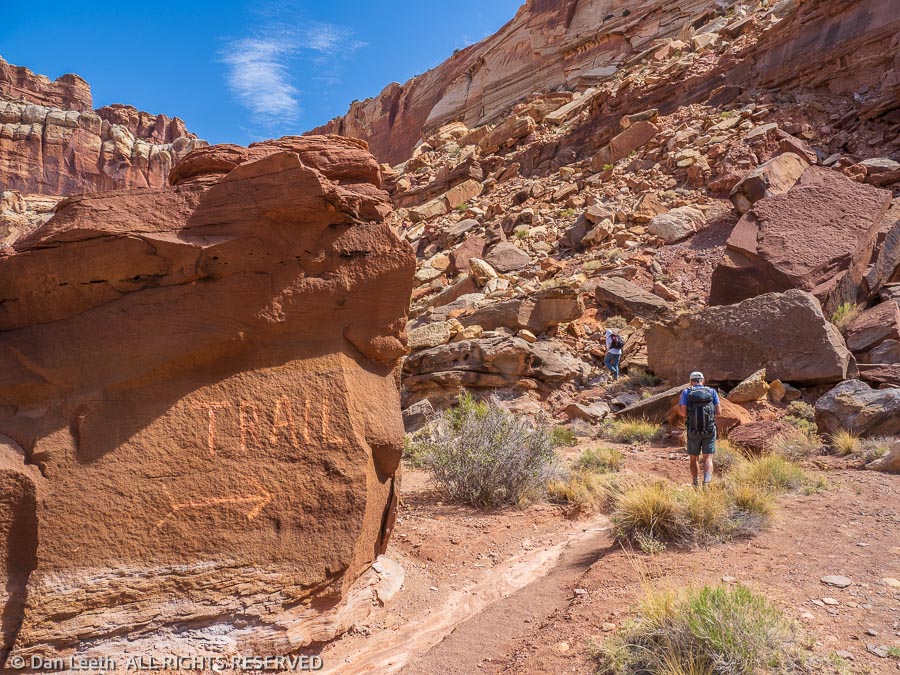 The next hike was on an abandoned trail behind a formation known as the Castle. Requiring a lot of trail finding over fallen rock, it was easy to see why the park chose to cease maintaining the route. We only saw four other people on the trail, the fewest we had yet encountered.
I've been to Capitol Reef perhaps a dozen times or more over the years. This was the most crowded I've ever seen. Dianne met a guy in line for pies at the Gifford House who worked for the Forest Service. He told her that nationwide, there are 7½ million new campers out this year. Many of them, no doubt, were at the park.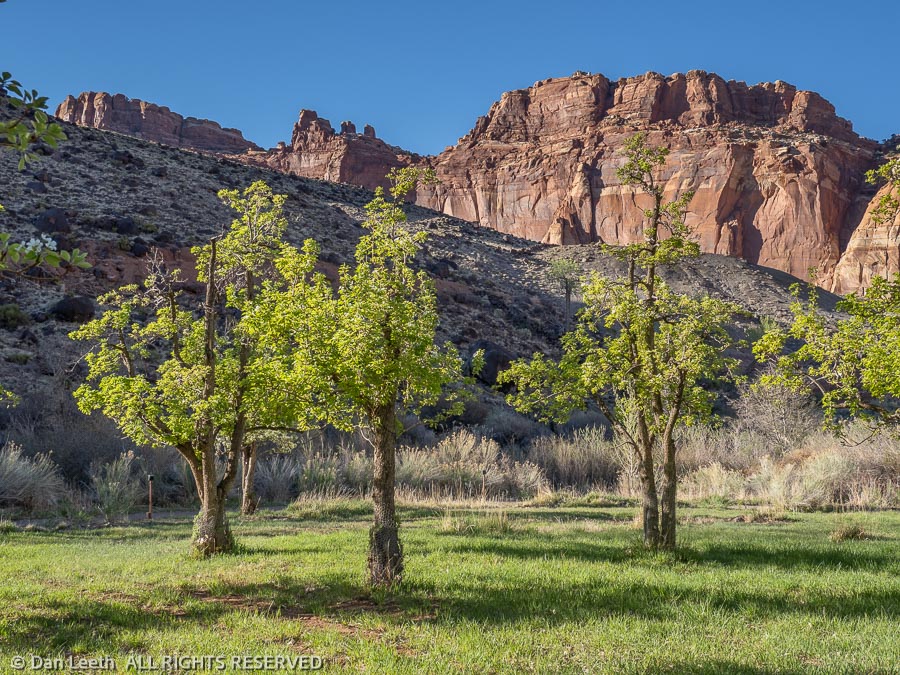 Capitol Reef National Park has three distinct sections. The main one, the one that those 7½ million new campers are heading for, is the historic Fruita section. This is where the historic buildings, orchards, main campground and scenic drives are located.
To the north lies the Cathedral Valley section, which one member of our group wanted to see, and another was willing to visit as long as he didn't have to drive his own truck there. They all piled into one vehicle with Dianne and me following in ours.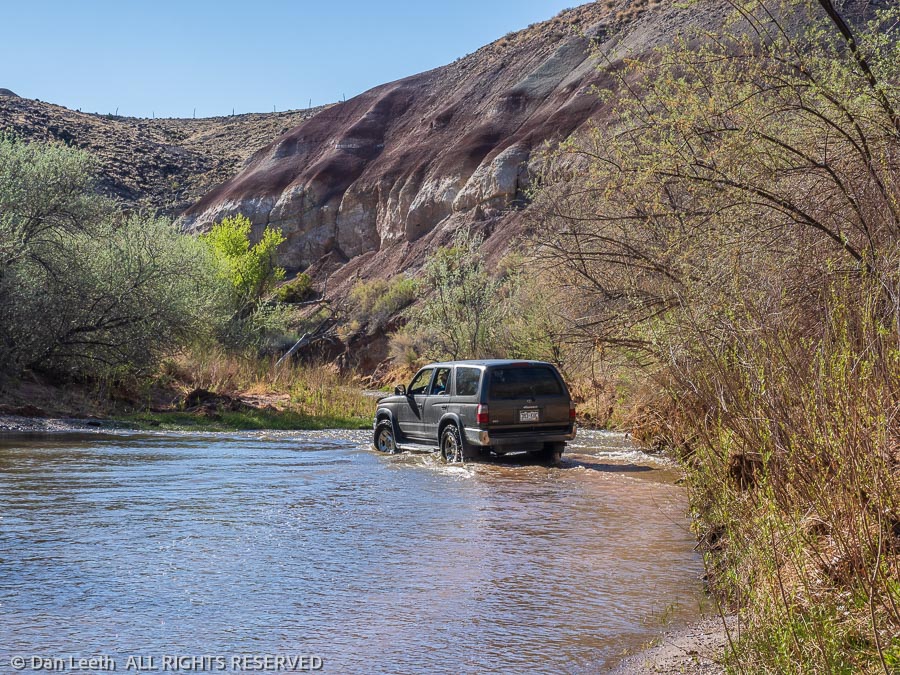 The Cathedral Valley road is graded gravel, rough in spots and highly washboarded otherwise. The loop route begins by fording the Fremont River, which was about hub-deep on our vehicles. This is not a route for grandma's Buick.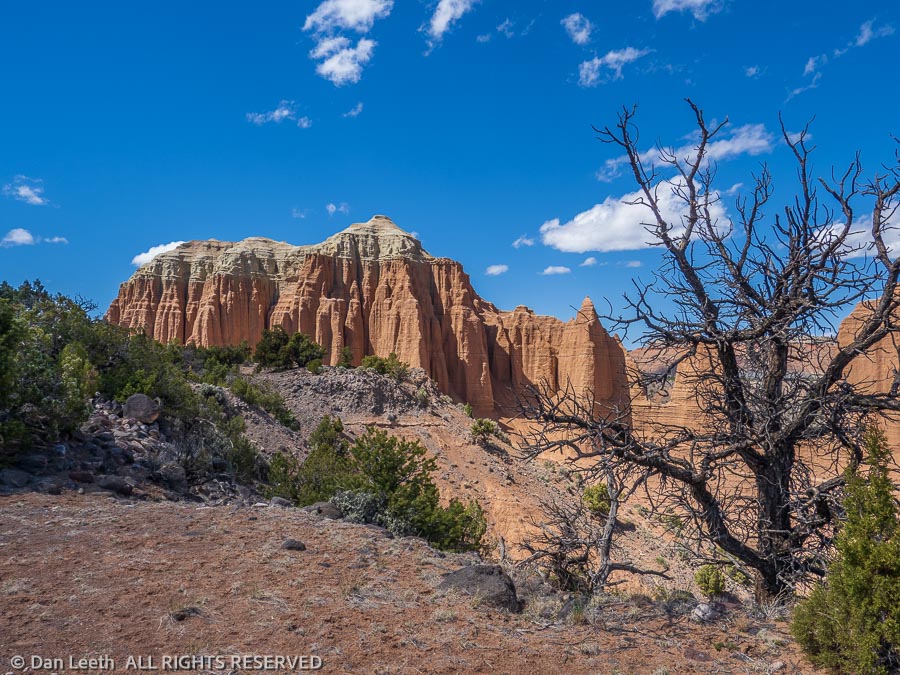 We did the loop route with several short hikes to viewpoints along the way. When we got back to camp, we discovered that the tonneau cover on our pickup bed had slid off to one side. The next morning, I got to take everything out of the bed and make repairs. We followed that with a short hike up the Fremont River Trail in the afternoon.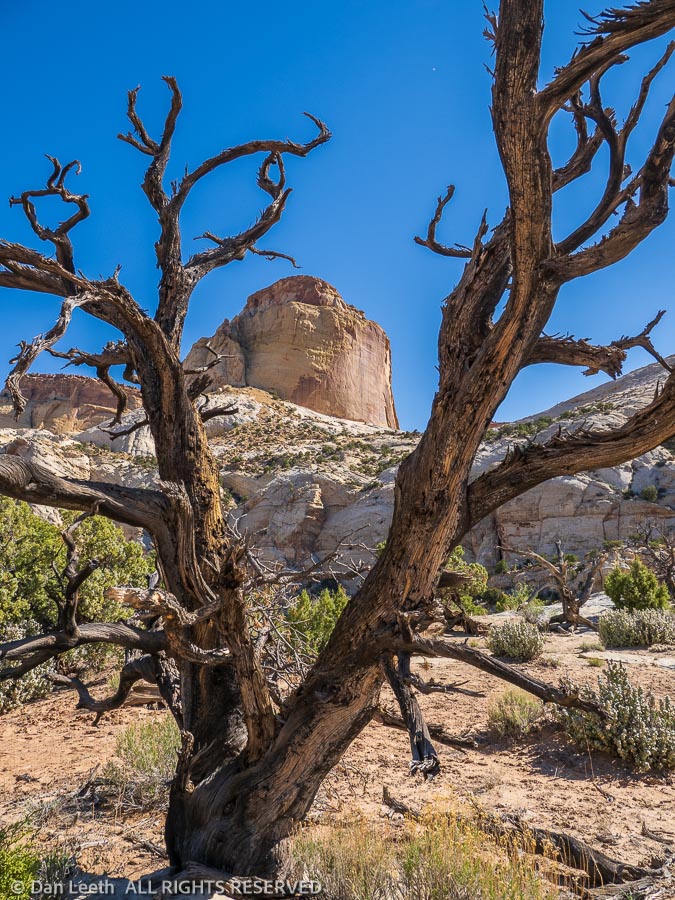 Our last hike with friends was to the base of the Golden Throne formation followed by a walk down Capitol Gorge to the park boundary. Along the way, we passed the Pioneer Register, a sandstone wall covered with historic Mormon graffiti, and a side canyon filled with the potholes that earned the geologic uplift it's Waterpocket Fold moniker.
With our friends heading for home, Dianne and I did what we had been longing to do. We took a day off and did nothing. And we did it well.
There are three immensely popular hikes in Capitol Reef – Hickman Bridge (which we did on our last visit), Capitol Gorge to the graffiti wall and Grand Wash.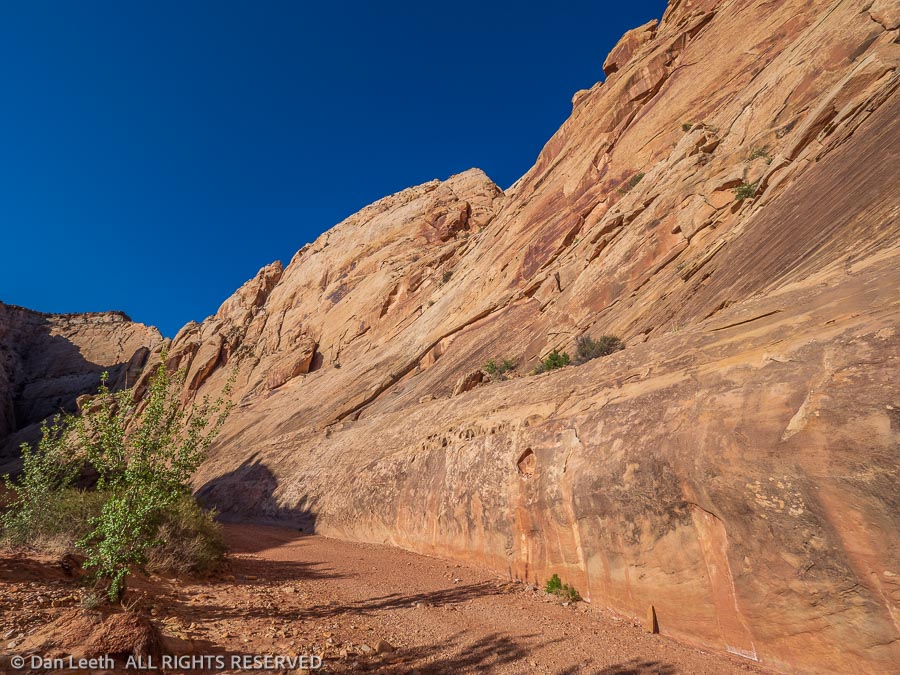 To make sure we got our full dose of humanity, the next day we hiked Grand Wash. We did it from the bottom up, beginning where it ends at the state highway. With an early start, we largely had the canyon to ourselves. That ended as we approached the upper end.
Now, don't get me wrong. I like people. I've hung around them all my life. I even married one. I should be glad to see hundreds and hundreds of people enjoying our national park gems. Hopefully, they will be inspired enough to support the efforts being made to protect more of our public lands.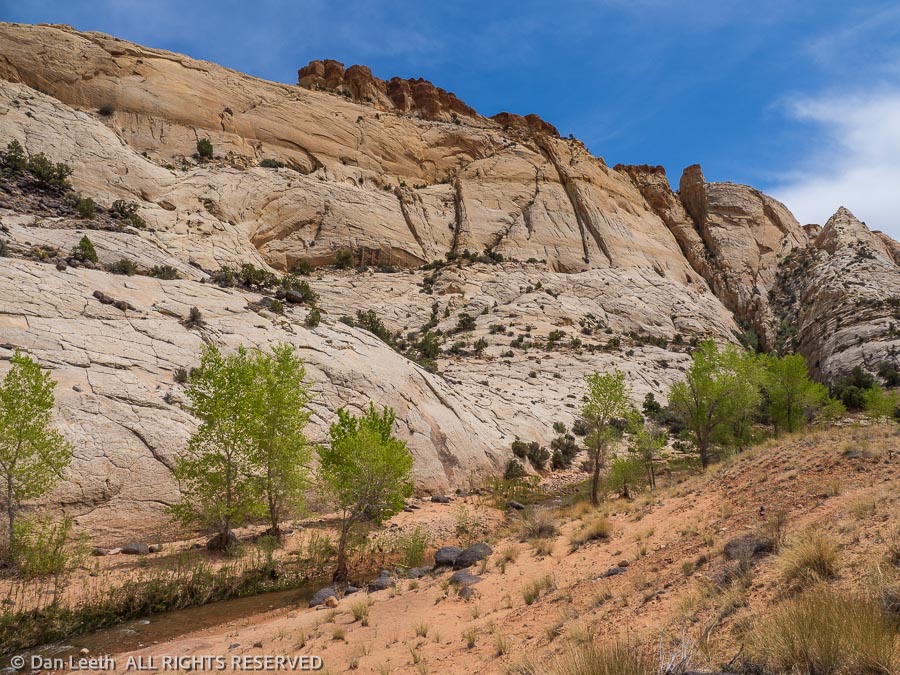 But there are times when Dianne and I just want to get out and enjoy the landscape on our own. We want to listen to wind rustling tree leaves, not country-western tunes from a hiker's boombox. We had that opportunity with a hike down Pleasant Creek.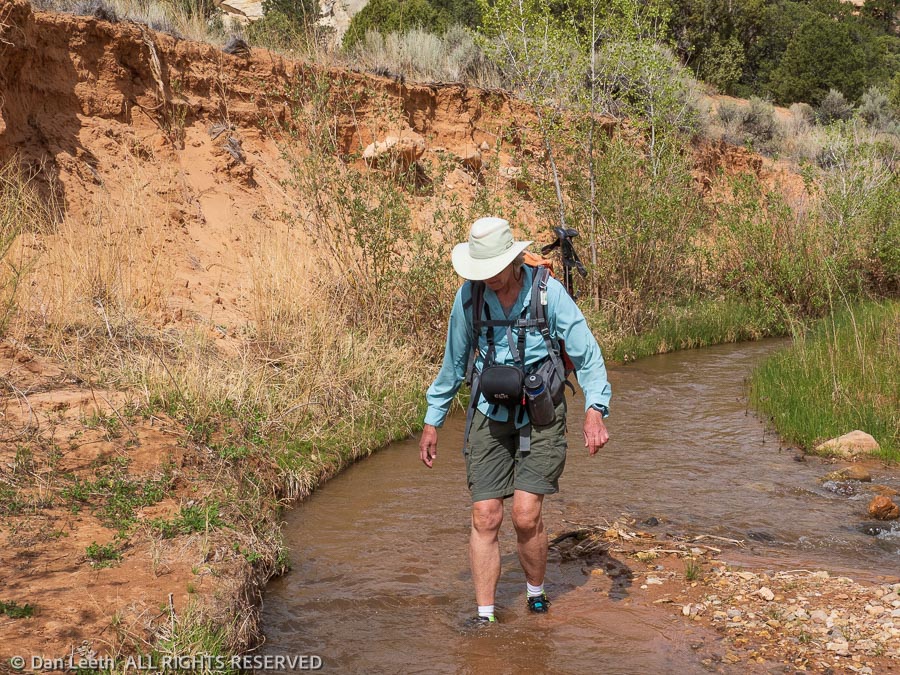 There's no trail down Pleasant Creek. There are simply hikers' routes through a wide canyon with a permanent stream. Cliffs by water's edge make crossing the creek a necessity. Later in the season, it may be possible to rock-hop across in places. With the spring runoff still coming down, we had to wade through ankle-deep water 21 times each way. We hiked in tennies for just that purpose.
Covering 9¼ miles, out and back from the trailhead to the park boundary, we saw absolutely no one. In one place we passed a chute where the creek formed a Jacuzzi tub in the sandstone. If it had been a warmer day, it would have made a great skinny-dipping hole.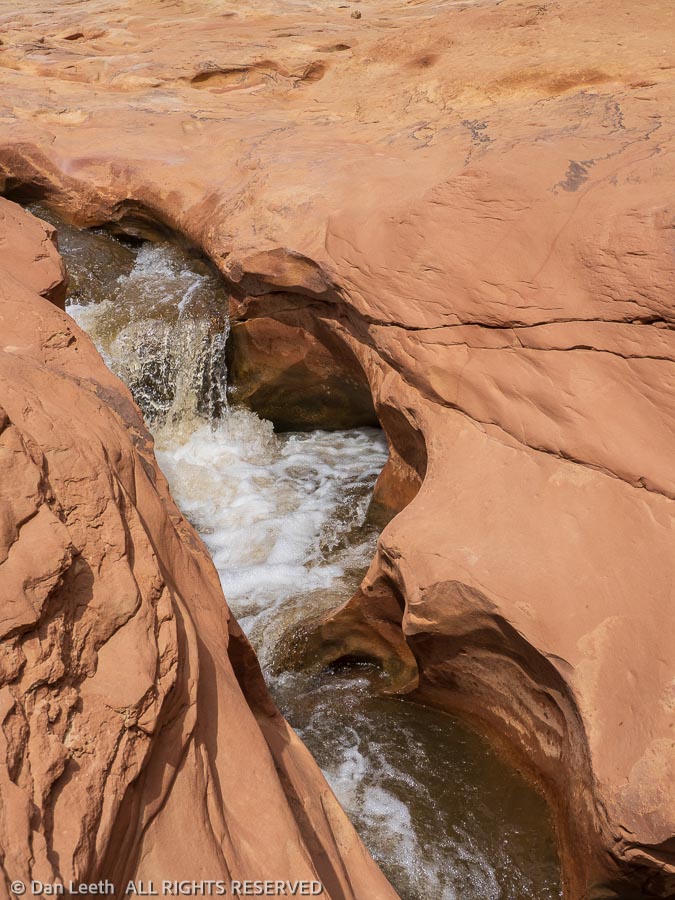 After a day spent grocery shopping in Loa and doing laundry in Torrey, we spent our final Capitol Reef day driving the Notom-Bullfrog road into the third portion of the park – the Waterpocket Fold section. We explored a few side roads where we photographed cliffs, hoodoos and abandoned cabins. We turned around at the park's Cedar Mesa primitive campground.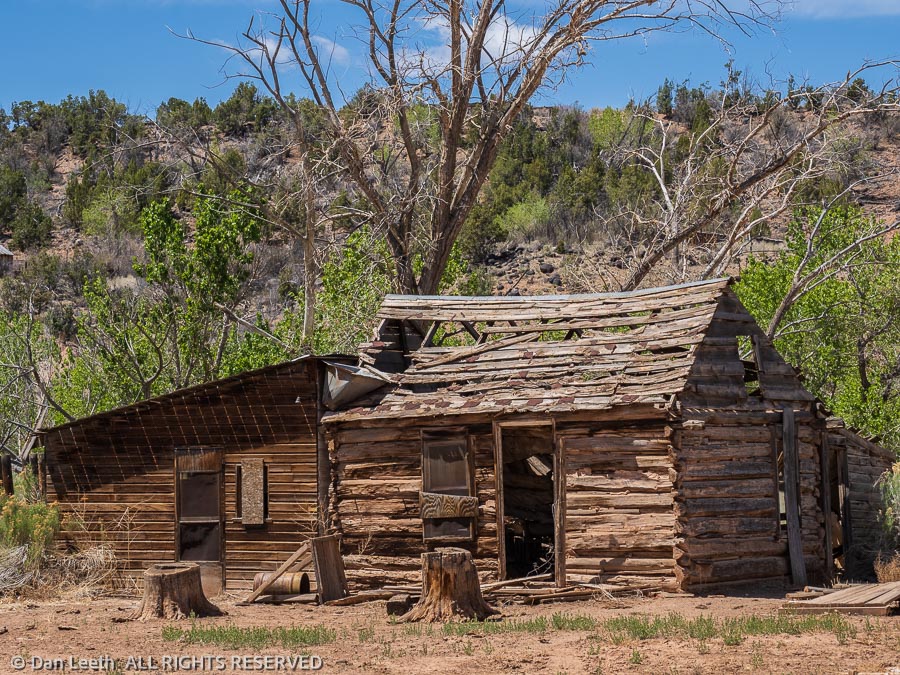 That evening, we drove down the park's Scenic Drive, passing cliffs glowing in the light of the setting sun. Other than a few cars exiting the drive, we saw no one. It provided a glorious end to a two-week stay in my favorite Utah national park.