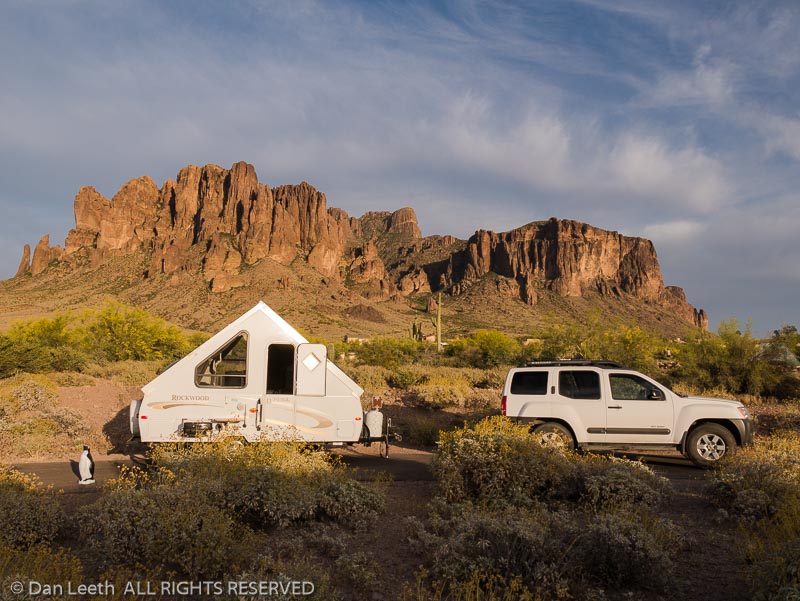 Since we became A-frame trailer travelers two years ago, we've camped in state parks in Colorado, Utah, Nevada and now Arizona, and I've got to say, Arizona's Lost Dutchman is one of the nicest and best values.
Unlike Colorado, the camping fee covers the daily admission. In our home state we have to buy a daily (or annual) pass to the parks in addition to the daily camping fee.
In Arizona, we can reserve a site 365 days before arrival, not just six months in advance. We already have our reservations in for March 2016 at Catalina State Park near Tucson. And the reservation fee is only $5 per reservation, not $10 as is common elsewhere.
Hot showers are free here – no dropping quarters into a slot and hoping the water doesn't shut off before the hair is rinsed. And the showers are clean, have soap trays and there are shower curtains in the stalls to keep dry clothes from becoming wet.
They actually have hand soap in the bathrooms, and paper towels instead of cold-blowing hand dryers.
And best of all, not once has a ranger complained of us having a tire touching the grass. Of course, in this piece of desert, there is no grass.