Some camping trips are truly memorable. This looks to be one of them, but for all the wrong reasons.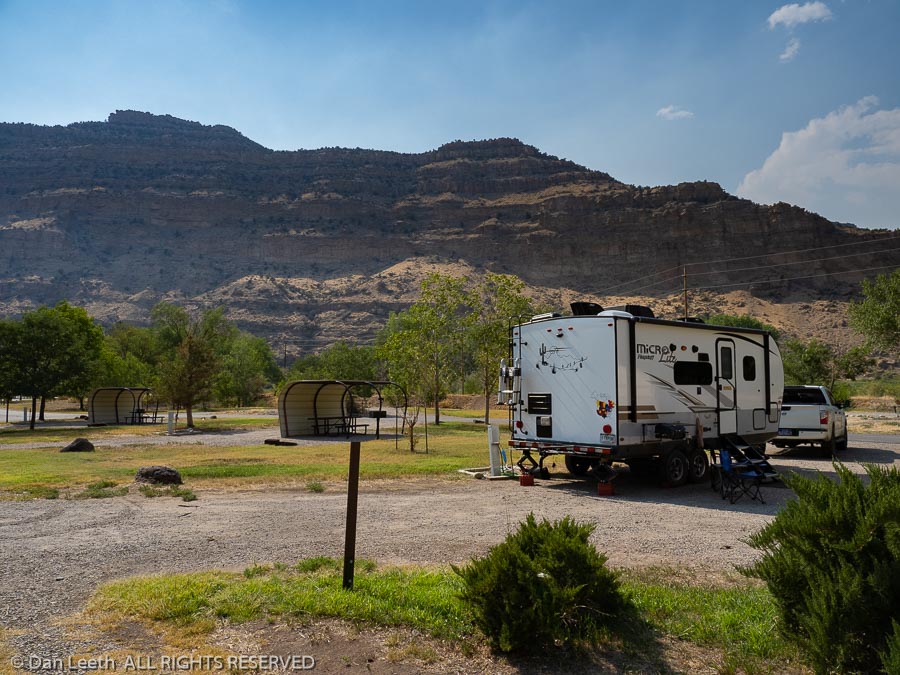 While the name may sound exotic, Robb State Park Island Acres section lies sandwiched between the cliffs, about 18 miles east of Grand Junction. There's no island. On one side of the campground lies the Colorado River and the Union Pacific railroad tracks. On the other lies Interstate 70, a major transcontinental truck route. Even though we're about as far away from the interstate as we can get, it's still noisy.
The sites are nicely spaced with grassy lawn between them, but shade is at a premium. Our site does have a canopy over the picnic table. We have full hookups (electricity, water and sewer), which means we can use as much water and power as we want. That's handy because with temperatures only a shade under 100, we'll be showering frequently and will have the air conditioner running pretty much all afternoon.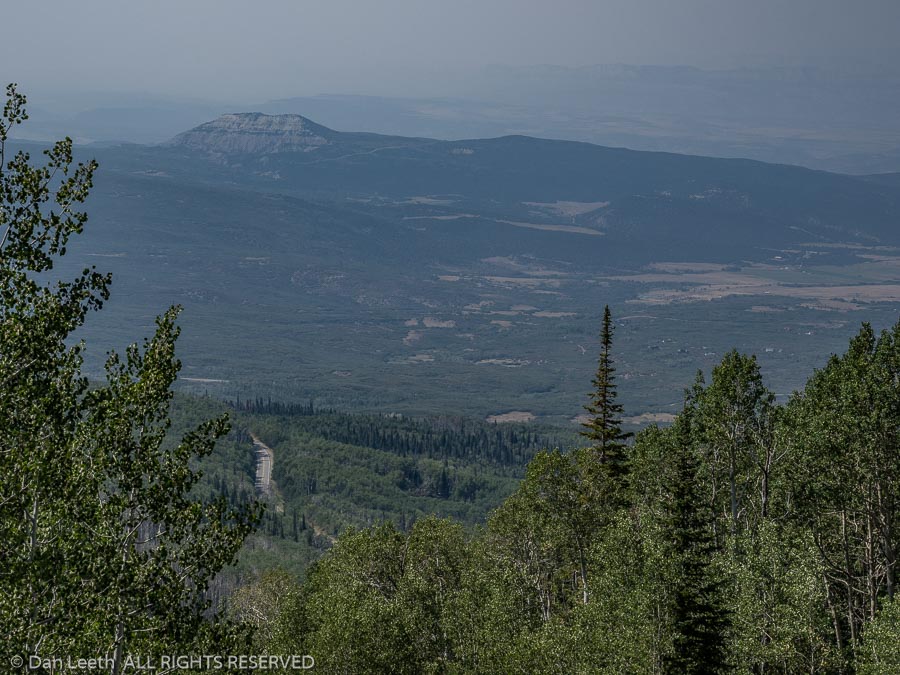 Then there's the smoke. Another major wildfire, the fourth largest in Colorado history at last count, is burning north of Grand Junction. Smoke from that conflagration blankets the area, making distant views appear as if we're seeing them through waxed paper. The air smells of burning wood and ash settles on everything overnight.
The one saving grace is that Grand Mesa lies about a half-hour drive away. At 10,000 feet, world's largest flat-topped mountain offers a cool, relatively smoke-free place to escape for hiking. The first day, we did a short, six-mile hike through glades of aspen and spruce to a series of small lakes and creek-fed reservoirs.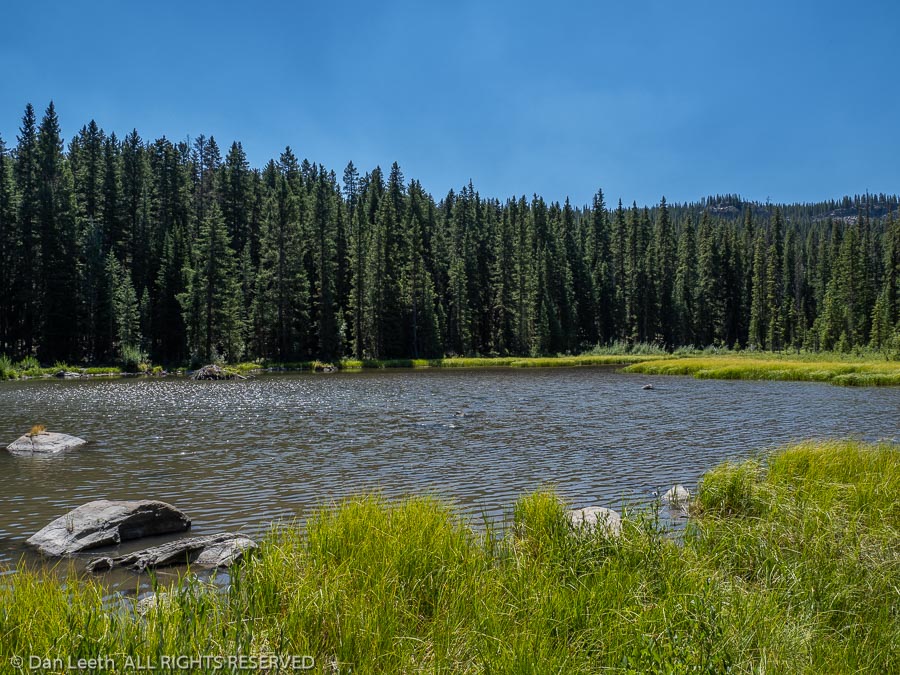 Yesterday we hiked eight miles from a set of roadside fishing lakes near the campground where we stayed three nights last July.  I think we each lost over a liter of blood to the ravenous mosquitoes back then.  We saw nary a mosquito on this trip.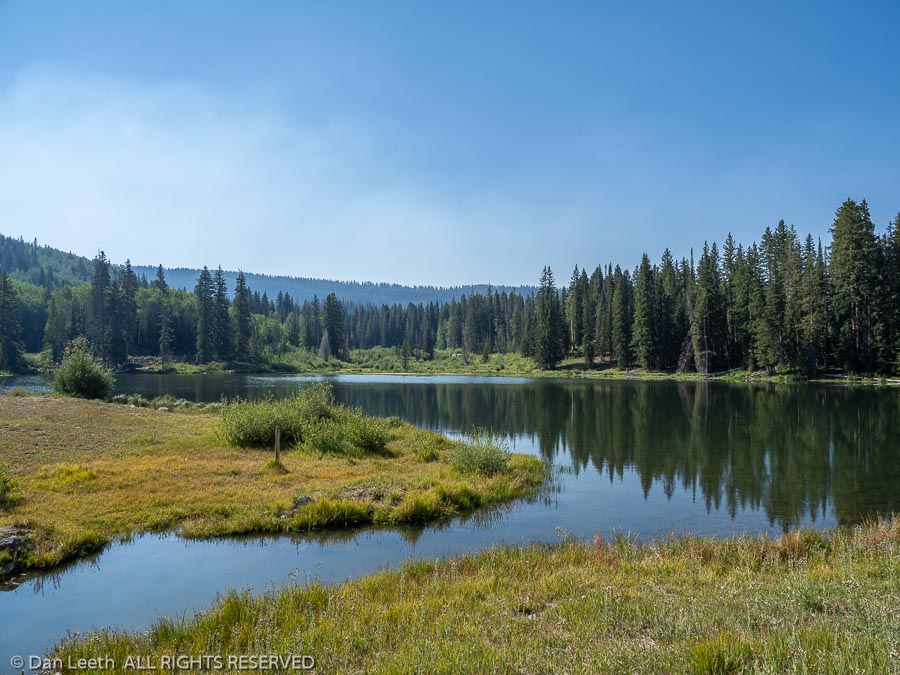 After four miles of relatively flat walking, we reached the top of a chairlift at the Powderhorn Ski Area. The steep, black-diamond ski trails look far more frightening when they don't have snow on them. If we can do it in Covid-free conditions, we may come back this winter on a ski vacation.
Dianne is still having issues with her replaced knee, so we're limiting hikes to every second day. On off days when the air is good, we'll do some more biking. On the bad days, we'll probably hang out in our trailer's air-conditioned luxury and catch up on reading. There are some definite advantages to "camping" in our summer cabin on wheels (SCOW).