For the third stop on our triple-header camping trip, we headed to Ridgway State Park for a two-week stay. Our campsite is two spots down from where we camped last year and three down from our 2018 site. I guess we're fond of this loop.
Located just off the San Juan Skyway, about a dozen miles north of Ouray, the park attracts a lot of visitors from the Lone Star State (and elsewhere) who arrive in their gargantuan motor homes and fifth-wheel trailers. So long was our current neighbor's trailer, he couldn't pull it through the curving pull-through site and had to back in. It makes us happy we bought small.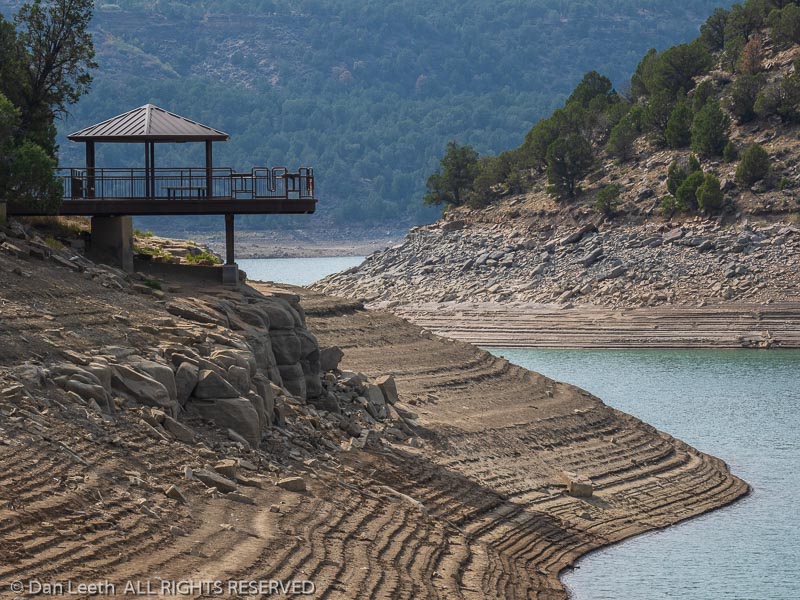 Ridgway State Park surrounds Ridgway Reservoir, a good-sized pond behind a dam on the Uncompahgre River.  When we were here last July, the reservoir was full.  Kids frolicked at the swim beach and folks fished from a shoreline gazebo.  Not now.  There's no water at the now closed swim beach and the shoreline gazebo now towers high on the slope, far from the water.  A ranger lady says it's like this every year.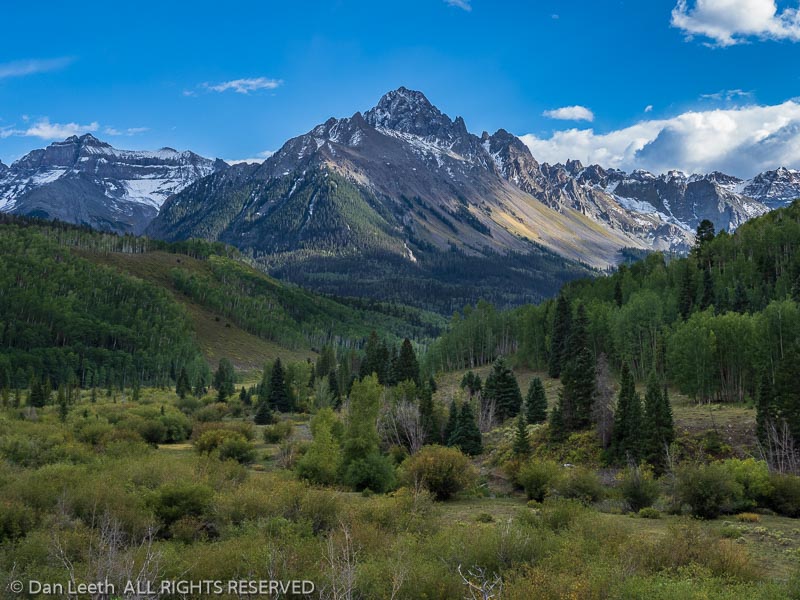 When we arrived here a week ago, the air was clear and the scenery spectacular.  Our first hike was to Lower Blue Lake at the base of Mt. Sneffels.  Dianne and I looked down on Lower Blue Lake and its upper sibling from the top of 14,157-foot summit of Mt. Sneffels a few years ago.  This time, we gazed up at the far away summit from the pond below.  Sensing movement atop the mountain, I pulled out the binoculars and saw at least two climbers looking down.  I waved.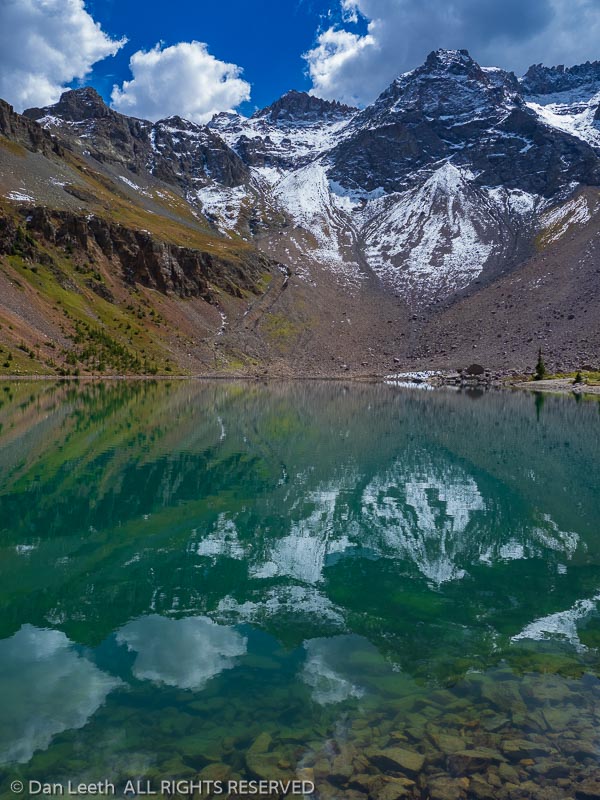 A few camo-clad hunters parked in the Blue Lakes Trailhead parking lot reminded us that it's bow and muzzle loader hunting for elk and bear. Bow hunters need to get close to their targets before firing, we were assured, so they would know we weren't prey. Still, we decided to take no chances. We drove 20 miles into Montrose and bought flame-orange caps and vests to wear on our next hike into the woods.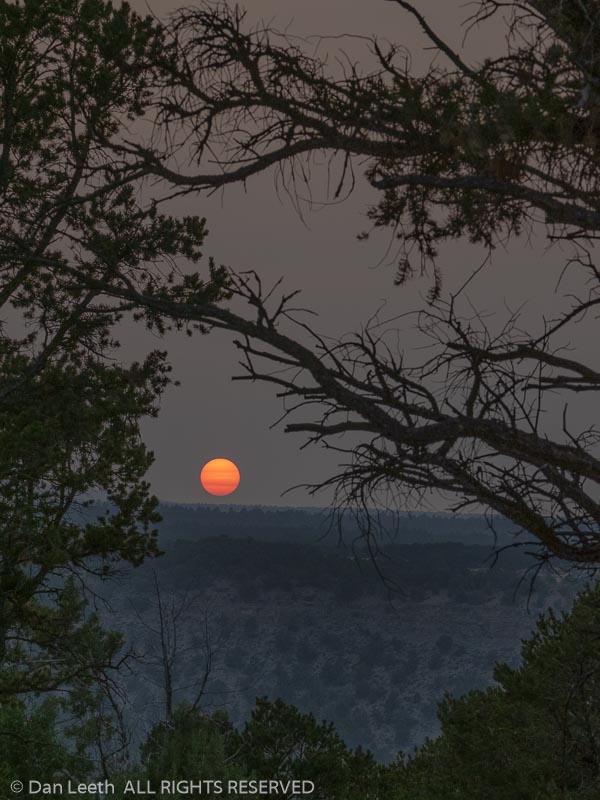 After two days of clear skies, the California smoke discovered our new location and blew in to obscure the landscape. Distant views looked like they were wrapped in waxed paper and the sun set as a ball that was more glowing orange than our don't-shoot-me caps and vests. The smoke has been constantly fogging the views since then.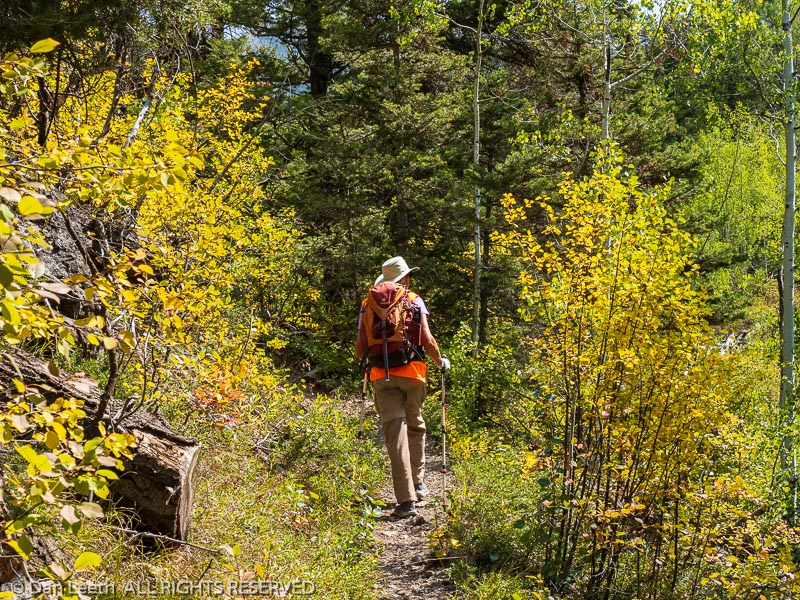 Our next hike took us up the Dexter Creek Trail, a long, continuous ascent up a valley northeast of Ouray.  The scenic views were hazy, but we did encounter some early fall color and passed by a pair of old mines holding the rusting remains of abandoned machinery.  We wore our vivid orange vests, but only saw one hunter on his way out.  He didn't shoot.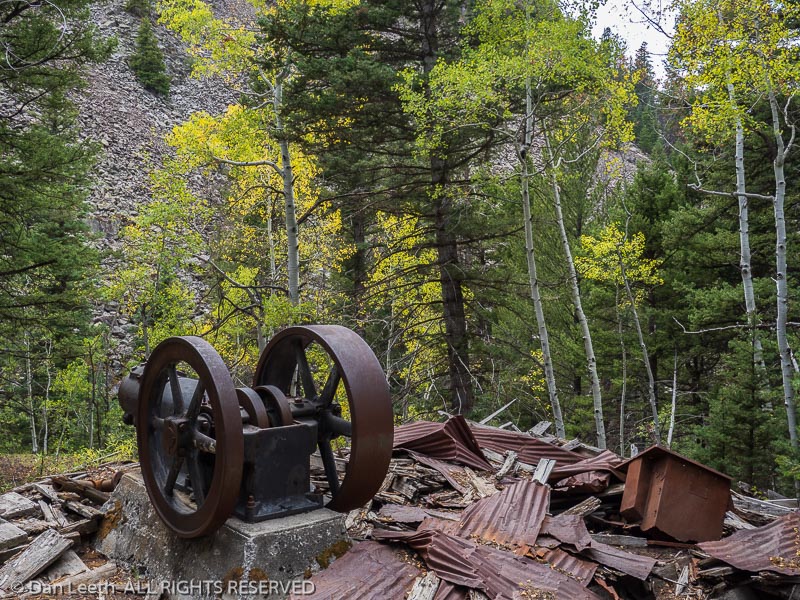 Today, we drove into Ridgway on a goose chase.  Galloping Goose #4 has been moved from Telluride, where it wastes away on a downtown street, to the Ridgway Railroad Museum where it will spend the winter under cover.  Before heading back, we stopped at the market for a few emergency supplies, such as more microwave popcorn packets. 
While Dianne was shopping, I photographed a street-side Trump rally.  There was nary a face covering to be seen.