Camping is about roughing it in nature. The guy in the half-million-dollar motorhome with the heated floors parked in the campsite across from us knows all about roughing it. He suffers from getting only 89 channels on his satellite TV, which he must watch on his RV's tiny, 60-inch TV screen. For him, that's roughing it.
For us, roughing it means no cell and internet coverage. To remedy that issue, we drove 14 miles down to Florence, Oregon, where the Verizon people have so nicely placed one of their cell towers.
We figured we'd just find a Starbucks, order a brew and a hot chocolate and sit there for hours happily sending postings from our hotspot-linked laptops. Unfortunately, the only Starbucks in Florence, Oregon, is a coffee counter located in the Safeway store.
Dianne suggested we head to the local library, which we did. We grabbed a table in the back where we could quietly type away on our laptop keyboards, reviewing and deleting hundreds of spam emails. The joys of 21st century civilization.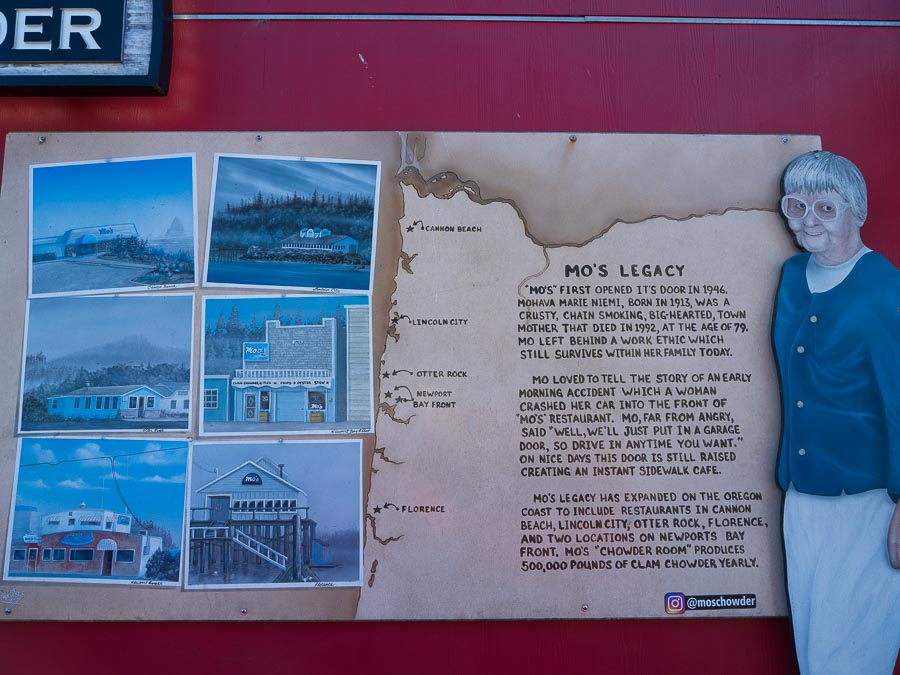 Now, let's talk food. Mo's is a chain of seafood restaurants in towns on the Oregon coast, and their signs brag about their chowder. One of their eateries was in Florence and we decided to try it out. We parked in their lot and headed for the front door where a sign said "closed."
Mo's here no longer opened on Wednesdays and Thursdays. We had to settle for seafood at an alfresco table on a street in downtown Florence.